Legal Transcription
Efficient legal transcription with AI-powered accuracy and security
7-day Free Trial
Transforming Lectures
Transforming lectures into organised notes with AI transcription.
7-day Free Trial
AI transcription refers to the process of using artificial intelligence and machine learning algorithms to automatically transcribe audio or video recordings into written text, without the need for human intervention. This technology has significantly reduced the time and cost required for transcription services, making it a popular choice for many industries.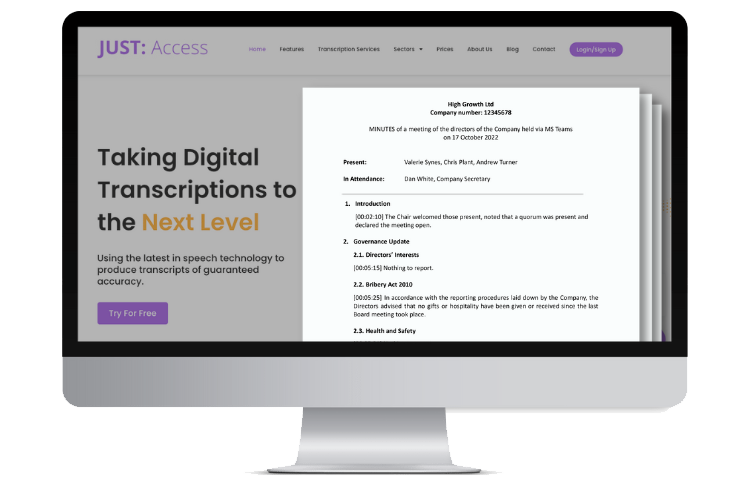 Still typing interviews, lecture notes or research from scratch? Why not let AI do the hard work for you? Our AI platform delivers an accurate draft document in minutes, which you can edit within the platform and is synced to the audio.
JUST: AI Transcriptions are delivered as intelligent verbatim – we remove filler words like ums, ahs and false starts (Strict Verbatim if you don't want them removed). All transcripts come with speaker names, templates and the option of customised vocabulary included in the price. We have over 30+ languages and dialects to choose from. 
All transcripts are stored securely, and are GDPR compliant. Whether users opt to have their transcripts edited by our experts or prefer to amend their own text, the results will be accurate, reliable, and affordable.
Users can access our platform from any device to create accurate transcripts in a fraction of the time it takes to transcribe manually. The responsive software makes editing speedy and straightforward, allowing users to apply different tools and create precise, professional, and consistent documents. This automated option also ensures that costs are kept low without affecting the quality of the results.
Why JUST: AI Transcription
Pay as you go

1GB Storage
1 User
5 hours/300 mins

5GB Storage
1 User
No minimum commitment. Pause or cancel anytime.
20 hours/1200 mins
20GB Storage
1 user subscription
No minimum commitment. Pause or cancel anytime.
90 hours/4500 mins
Unlimited Storage
5 User
Transcribing more than 200 hours a month?
Contact us for volume pricing.
No minimum commitment. Pause or cancel anytime.
If you have any questions about our AI transcription service, get in touch with us today using the contact form or send us an email.