What is Technical Transcription
Technical (or manual) transcription is the process of listening to an audio or video recording and transcribing it into written text manually, word-for-word. Traditionally, it involved a human transcriber listening to the recording and typing out each spoken word, including any pauses, stutters, or other vocalisations that may be present in the recording.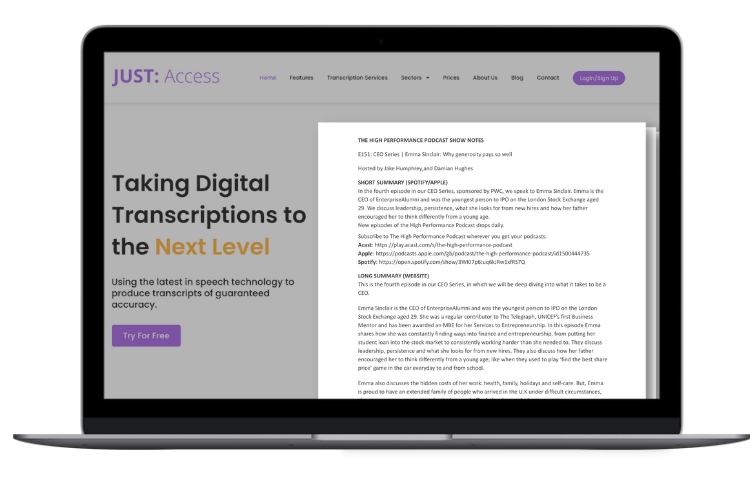 Manual transcription is necessary for accurate and reliable text-based records of speeches, interviews, meetings, and other spoken content. But using transcribers can be both a time-consuming and expensive process. That's why we use AI to transcribe a draft document and have our pool of editors review for accuracy. Accurate transcripts in half the time, at half the cost.
JUST: Technical Transcriptions are delivered as intelligent verbatim – we remove filler words like ums, ahs and false starts (Strict Verbatim if you don't want them removed). All transcripts come with speaker names, templates and the option of customised vocabulary included in the price. We have over 30+ languages and dialects to choose from, and transcripts can be expedited to 24/48 hour turnaround if needed.
All transcripts are stored securely, and are GDPR compliant. Whether users opt to have their transcripts edited by our experts or prefer to amend their own text, the results will be accurate, reliable, and affordable.
With our expert editing option, users can upload audio files to the secure platform and leave the editing to us. Once complete, the finished transcript can be reviewed within our secure platform, amended, and downloaded, providing a valuable resource for organisations and individuals who lack the time or means to self-edit. For professionals dealing with multiple or recurrent transcriptions, this is the ideal solution.
Why JUST: Technical Transcription
Ideal for ad-hoc transcription
Pay as you go
1GB Storage
1 user PAYG
£1.50 / minute
£1.50 / minute thereafter
Ideal for
small companies
10 hours / 600 mins 
10GB Storage
5 user subscription
£756 / month     
£1.28 / minute thereafter
No minimum commitment. Pause or cancel anytime.
Auto functionality for bigger teams
20 hours / 1200 mins 
20GB Storage
10 user subscription
£1,440 / month
£1.20 / minute thereafter
No minimum commitment. Pause or cancel anytime.
Larger projects and bigger teams
50 hours / 3000 mins 
50GB Storage
25 user subscription
£3,375 / month
£1.13 / minute thereafter
Transcribing more than 200 hours a month?
Contact us for volume pricing.
No minimum commitment. Pause or cancel anytime.
If you have any questions about our technical transcription, get in touch with us today using the contact form or send us an email.